Customize.
Mojo Musical Supply now offers custom faceplates. Put your name or logo on any of our stock faceplates (18W, JTM45, etc.) or any color PLEXI material we offer. Choose any True Type font you want!
We have 4 material options to choose from:
Gold Reverse-engrave Plexi
Black Reverse-engrave Plexi
Grey Reverse-engrave Plexi
Black Front-engrave (reveals white) Acrylic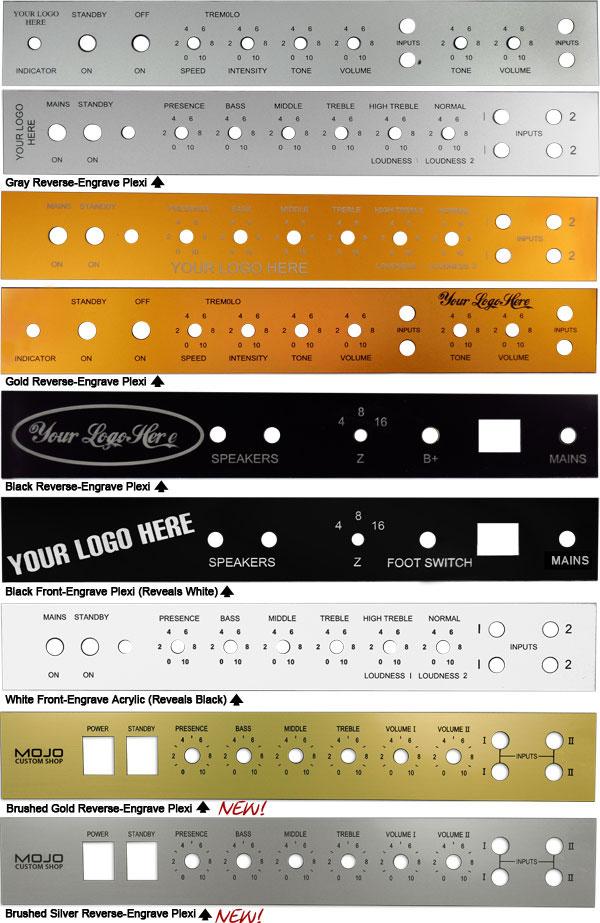 Changes can be made to any of our stock options (within reason). This includes hole sizes, hole placement, perimeter dimensions, etc.
Any customers wishing to have a fully custom faceplate and/or backplate must furnish a DWG or DXF file. Setup fees will vary depending on how well-developed and "clean" the file work is (i.e. modifications may be necessary to get a properly formatted cut).

A quote will be provided based upon the amount of text being engraved as well as the size of the panel and the amount of material required. Engraving can be done on any color material with any color back-fill. Front-engrave material will be more costly.
Customers will receive a PDF PROOF of the faceplate/backplate/set which will become the working proof agreed upon via email. Mojo Musical Supply will not be held accountable for non-approved work outside the scope of the approved proof agreed upon.
If you cannot provide a digital representation (DWG, DXF) of the desired faceplate/backplate/set, we will allow hand drawn drafts with FULL dimensional information. This would include distance between cutouts, size of cutouts, text in relation to cutouts, cutout distance from outer edges, etc. This is the most expensive option.



*Some fonts are harder to work with than others and may require additional setup time, which will increase the cost of setup fees. You also have the choice of front-engrave material, which will increase the cost of setup fees. Fonts must be provided in True Type files for any fonts we do not already have on file.